Yogi Priyavrat commemorated Swami Vivekananda's speech at World Religion Parliament – Dzire News
Yogi Priyavrat commemorated Swami Vivekananda's speech at World Religion Parliament – Dzire News
Dzire News , New Delhi – September 20 2023 , Yogi Priyavrat Animesh, Founder Chairman of Ooj Foundation ( a non-profit service
organization), was on 7-day visit to Karnataka, which culminated with the visit to Swami Vivekananda Yoga Anusandhana
Samsthana (S-VYASA), on the eve of commemoration of the day when Swami Vivekananda made his first speech at the
Parliament of the World's Religion at Chicago. Yogi Priyavrat ji has been travelling through the length and breadth of India
on a spiritual quest, visiting the magnificent temples, places of faith, animistic traditions, and ritualistic practices.
This visit to Karnataka is in furthering his South India, dwelling deeper into the spiritual exploration after Andhra Pradesh
and Tamil Nadu. He not only explored the vibrant culture and rich heritage
of South India but also connected with like-minded individuals who share his passion for energy transformation.
The journey commenced with visits to some of the states' most revered temples, each a testament to the spiritual diversity and
devotion that flows through the region. Temples like Udupi Sri Krishna Temple, Dharmasthala Manjunatha Temple, and
Murudeshwar Temple provided Yogi Ji with moments of reflection and spiritual rejuvenation. These sacred sites served as a
source of inspiration for the Ooj Foundation's mission, which seeks to promote spirituality and energy transformation as
powerful tools for personal and societal well-being.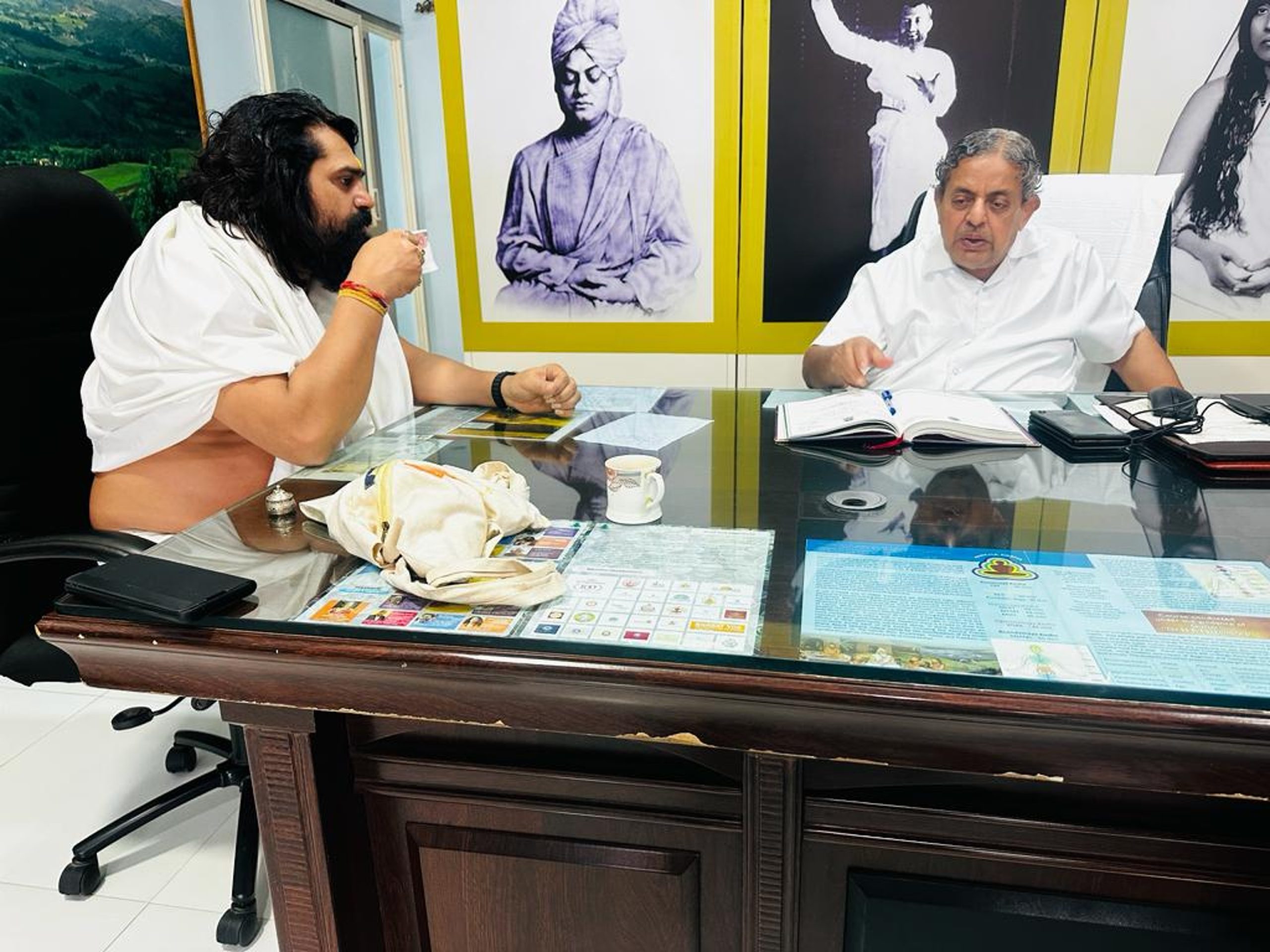 Yogi ji coincided his visit with the Spiritual and Youth Icon Swami Vivekanand's first speech at the Parliament of the World's
Religion. Swami Vivekanand's southern India tour was in the year 1892 when he visited cities like Bangalore, Trissur,
Kodungalloor, Ernakulum, Nagercoil and Trivandrum, Rameshwaram before culminating the travel at Kanyakumari. Swami
Vivekanand believed that youth was the foundation of a country and an asset. He asserted the importance of their energy,
enthusiasm and innovative ideas. He called for channelizing their energy in the right direction so that they support the progress
of the Nation. Yogi Priyavrat Animesh has been a champion of energy channelization at the universal and individual level. He
has been working with youth and has under taken retreat programs, particularly in the Himalayas and North East Assam for the
youth. During the visit, he visited the CMR group's educational institutions, which caters to approximately 20,000 young
people through different disciplines of studies. He met Shri K C Rammurthy, former Rajya Sabha member and Chairman of
the CMR Jnanadhara Trust.
As the journey neared its end, Yogi Ji dedicated the final day of his visit to the pursuit of knowledge and enlightenment. In a
fitting conclusion, he visited the Swami Vivekananda Yoga Anusandhana Samsthana (S-VYASA) campus in Bengaluru. The
university serves as a hub for yoga research, education, and spiritual exploration. Yogi Ji's visit to the university symbolized his
commitment to fostering spiritual growth and energy transformation through education and research.
The event that stood out on the itinerary was a meeting with Dr. H.E. Nagendra, founder and vice-chancellor of S-VYASA. Dr.
Nagendra, a distinguished engineer, yoga therapist, academic, and writer, is renowned for his contributions to the field of yoga
and wellness.
During their meeting, Yogi Ji and Dr. Nagendra engaged in profound discussions about the transformative power of yoga,
spirituality, and energy. They explored the connections between inner well-being and external harmony, aligning their visions
for a better, more spiritually awakened world. This meeting was not just a casual encounter but brought Ooj Foundation and SVYASA
together, where their combined efforts, once explored, could bring about positive change on a broader scale.
Yogi Ji's 7-day sojourn to South India was a profound journey into the heart of spirituality and cultural richness. His encounters
with revered temples, influential individuals like Shri K C Rammurthy Dr. H.E. Nagendra, and the visit to S-VYASA's campus
were all part of a larger mission to promote spirituality and energy transformation through the Ooj Foundation. This voyage not
only enriched his personal spiritual journey but also opened doors for future collaborations that could inspire and uplift
countless lives through the power of spirituality and positive energy transformation.
Sanjeev Sharma
Editor in chief